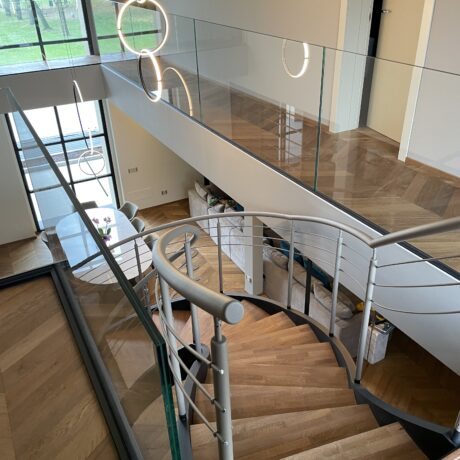 Location: Milano, Italy
Built: 2021
Category: Interiors, Private House
Realization of the modular staircase model Helika Trend Iron with double structure in painted steel, step in laminated oak sp.mm60.
The sturdiness and strength of the HELIKA TREND IRON is given by the side bands honeycomb iron that allow it to overcome important differences in height despite the great sense of lightness that the steps with open riser offer.
The railing of the staircase is in painted steel with columns diam.mm 34, fixed on honeycomb structure ini side bands with round bars diam. mm 8 and handrail diam. mm 42.
The balustrade of protection, fixed to the floor with extra clear glass panels.